We recently had the chance to get our whole Dungeons & Dragons group together for a FULL DAY of questing for one of the Quest Friend's birthdays! We started a new series of one shots with a group of hapless gnomes that are just looking for some adventures.
This doesn't happen very often so we thought we would celebrate with some delicious and appropriately themed desserts. We present…
Boozy Chocolate Bourbon Cake with Forged Chocolate Dragons
ALRIGHT FOLKS, sit down and buckle up, because we are about to bring you the mother of all bundt cakes.  This is not your grandmother's bundt cake.
We bring to you the Boozy Chocolate Bourbon Cake with Drunken Bourbon Sauce from the Cake Simple Book by Christie Matheson.
Just how boozy is this cake, you ask?  1 whole cup full.  Seriously.  And this does not include what is in the sauce.  I'm fairly certain we all got a contact buzz from the fumes, while we were decorating.
The cookbook does a great job of taking you through the recipe step-by-step. On our board game scale, I'd put this at a Settlers of Catan level ranked between Go Fish and Axis and Allies. Its not the first board game you ever play, but it's still beginner friendly and won't take up your entire day. Here's a few tips from us on how to ensure you roll a natural 20 with your cake!
don't coat your bundt pan with cooking spray; melt butter, thoroughly cover, and use a big coating of cocoa powder
Read the instructions CAREFULLY because there are many steps that involve careful timing and pre-planning
use an actual scale
10/10 would recommend making the cake the day before hand, since it's fairly time intensive.  Then make the sauce just prior to serving.
It also helps to have an assistant handy for the tricky "flip the bundt cake out of the pan" step… we didn't need one this round but it's great if you need a photographer as well!
So now we have our Bundt cake made!
We made this the day before our Quest Friends Extravaganza and then waited to make the Bourbon sauce (read: straight bourbon with brown sugar and butter added!!) until right before we served the cake.
Chocolate Decorations
Next up was making some kick-ass chocolate decorations to spruce up our cake!
What you'll need:
parchment paper and pre-printed designs beneath to stencil
handle the heat instructions on how to temper chocolate an do designs
Full disclosure: We had never done this before! Luckily we found a great tutorial here to help us.  Somehow, most of the chocolate wound up on us, though.
We were terrified about tempering the chocolate… somehow the difference between 89F and 91F is catastrophic in the chocolate world ?!
Tips for making Chocolate Decorations
Use oven mitts while working with the double boiler (Seriously! The pots are lava)
Use the buddy system while baking.  There's a lot of moving pieces. You would need three hands (or a Displacer Beast) to do this by yourself unless you're an expert
Cooking thermometer = must; nothing fancy needed (we didn't have a candy-specific thermometer. Ain't nobody got time for that!)
Use different bags with different sized holes cut out.  Or be smart and use a squirt bottle a-la 50s diner ketchup/mustard container!
Tape down the parchment paper and stencil so it won't move while you're stenciling on the chocolate
Now that you've read through the tips its time to get started…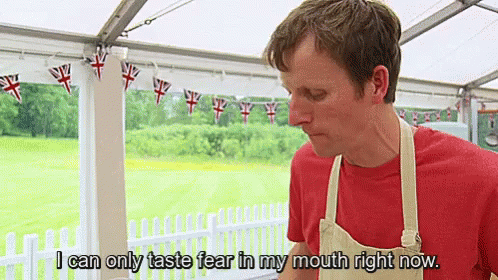 After waiting what seemed like an extraordinarily long time for the chocolate to cool to that perfect 84 degrees, we were ready to decorate!
We had mixed results with our chocolate shapes… it definitely takes a few minutes to get the hang of it. And start with a smaller hole in the ziploc rather than a large one! It'll really help with the fine details.
After you're done and the chocolate has had a few minutes to harden, cut the parchment paper around your shapes and put them on a cookie sheet. Stick this in the fridge for the chocolate to set! We left ours in overnight but 20 minutes should be enough.
Once your decorations are ready, it's time to decorate!
We found the best way to add the chocolate decorations to the cake was to make a slit using a knife, and then gently stick the chocolate decoration into it. Remember, we're adding the bourbon sauce to the top anyways, so that will help cover any holes!
Then, it's time to enjoy! As Mary Berry would say,